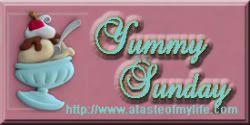 It's so hot these days and one of the ways to quench my thirst is drinking a cold coca-cola soft drink. I know this can add up to my belly fats but it feels so refreshing to drink a glass of coke with lots of ice in it.
These glasses of coca-cola are perfect for Gen's Longganisa her last week'sYS entry.
Happy Sunday everyone!