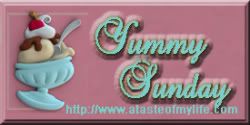 Happy Yummy Sunday!
Here's a yummy strawberry smoothie from Tina of  "Goodies for man and cat". This was her Yummy Sunday entry last week. You can check out her blog today and find out more yummy food photos.
How about you? What's your yummy food for today?
By the way, please make sure that your blogs have the Name/URL option in the comment section so everyone can leave a comment. Thank you!