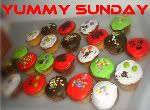 Hello everyone, I am very much happy to continue this food meme called "Yummy Sunday". Janet of Our Family Story gave me the privilege to be your new host for this. I hope you will join me and let's share different kinds of food photos every Sunday.
If you're new to this meme, kindly click this link " About Yummy Sunday".
For my very first entry as the new host of this meme, I would like to share this dish from Dynasty Court Hotel. I actually took this photo during the 6th Birthday Celebration of my niece. Actually, I forgot the exact name of this dish but I chose to post this because the shrimps looks so yummy. Isn't it? How about you, share your Yummy Sunday post now!