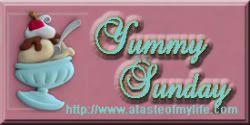 A seafood meal from Emzkie of A SAHM Reviews. Net.
It's been a busy week for me lately. I had lots of meetings and seminars for the entire week and last night was an overnight church activity. Wheew! But I am thankful that we will be having a long break this weekend because Monday and Tuesday is going to be a national holiday and it will be a day of rest for me.
It is also our City Fiesta. There are a lot of activities lined up but all I want for now is rest. I am also hoping to eat a yummy seafood dish like that one from Emzkie.  Do you like it too?
By the way, I'm adding blog links on my "Related Blog" page. If you want to be included on the list, kindly place the YS badge on your blogs and leave a comment. 🙂
Thanks for joining! Hope you will all have a YUMMY SUNDAY!