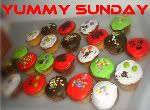 Happy Sunday Everyone! My entry for this week's Yummy Sunday is a breakfast which my hubby lovingly prepared for me. It's sunny side up eggs and chicken hotdogs. When hubby is at home, he's the one who prepares our meal. When he is not tired from work, I am very much happy because he will take my place in preparing dinner. Every time I ate the food he prepares for me, my heart is filled with joy thanking God for giving me a husband that loves to cook.
How about you? What's your YS entry for this week? Please don't forget to leave you links on Mr. Linky so I can visit your posts.
By the way, after you have added your links please vote for my cousin's photo "JESU_D".  Hope you will help me support her. Thanks!