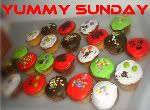 Last November 25 was my birthday. I was excited about it because I have made plans to treat my students that day. On the 24th, I went to the grocery store to buy ingredients for Spaghetti and Fried Chicken. When I reached home, I prepared all the necessary ingredients for the foods I will be preparing. Even though the weather that day wasn't that good as it was raining hard, I still enjoyed cooking because I want my students to be happy on my birthday.
At 2:00 AM, I noticed that the rain hasn't stopped yet. But despite that, I continued cooking and went to sleep. As early as 6:00 AM, my cellphone rang and I was excited to answer it even though I was a bit draggy. I was expecting that it was a call from friends who will greet me on my birthday, but it was a asking me if we will hold classes because our city has been affected by a typhoon and it was reported as signal no.1.  I opened the TV and I find out that there were lots of schools who announced a NO CLASS day.
I left with no choice that day but to stay home and eat all the food I prepared. <sigh>. Thanks to my cousins and in-laws who went home and helped me finished all the food I prepared. Below is the photo of my spaghetti.
By the way, our featured Yummy Sunday participant is a widow who has never failed to share his yummy foods. Visit Nanay Laurencita of "A Glimpse of a Widow's Heart"today.
Leave a comment and don't forget to place your link on the Mr.Linky badge. Happy Sunday everyone!