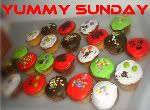 Hello everyone! It's Yummy Sunday once again. How was your Christmas celebration? Did you had a great time with your family and friends? I hope you had a great time as I had with my family. We enjoyed our Noche Buena together and this mocha cake was one of our desserts. It was my sister in-law who bought this cake from Goldilocks.
What about you? Can you share what you had last Christmas?
P.S. I'll be making a separate for featured blogger this week. I will post it on Monday. God bless!