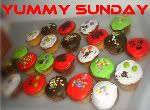 I was in Tagaytay last Tuesday for a seminar and I enjoyed my stay there even if there was a little time for pleasure and a tour around the place. The weather wasn't that good too that is why I opt to stay inside the seminar house rather than exploring the place.
One of the best things that I love during my stay there was the food. It was yummy! I'm supposed to post Tagaytay's "ESPASOL" but sad to say the food was already spoiled as I arrived home today. Anyway, the photo above is one of my dinners in Tagaytay. It's a typical Filipino food with rice, meat and the Pancit (fried noodles). The funny thing about us (Filipinos) is that we ate the Pancit together with the rice.
How's your Sunday? Do you have a Yummy Sunday post too? Join us and please don't forget to leave your URL on Mr. Linky below.
God Bless and Happy Yummy Sunday!!!