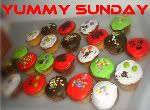 Happy New Year everyone! How was your New Year's Celebration? Hope you all had fun. Ours was indeed fun because a lot of kids came to celebrate with us. We had children's games all night and had fireworks too. As for our food, we prepared all kinds of dish that is made of dish because my mother in-law is taking control of her high blood pressure. But a Filipino New Year celebration is not fun without Lechon, so we ordered one from a friend. We also had cake for dessert. Below are the photos of some of the foods we had last New Year's Eve.
Fried Tilapia (this one is prepared by my mother-in law)

Fruity Fish

Baked Tuna Panga

Lechon
By the way, I haven't posted the featured Yummy Sunday participant as I was so busy with a lot of things last week. My apologies…
Anyway, our featured Yummy Participant for this week is Kero of Kero's Celebration. She posted this cute cake last week. Visit her blog today!
Powered by MckLinky
Click here to enter your link and view the entire list of entered links…