Hello everyone! I'm sorry about last Sunday because of some problems about my webhost provider. The server was down for the last 24 hours and I wasn't able to access this blog last week. Good thing, this site is now transferred to a new webhost provider and I find it very stable compared to  the old one. Thanks to Mommy Ruby of Mom's Hosting.
Last week, the parents of my student gave me "Sotanghon". These parents has a food business and whenever they cook something new, they allowed me to have a taste of it. I am so thankful for generous parents like them… Talking about the Sotanghon, it was indeed delicious!
HAPPY YUMMY SUNDAY… and don't forget to leave your link below.
Copy and paste the code to get the YUMMY SUNDAY badge: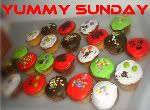 <a href="http://www.atasteofmylife.com/"><img src="http://i176.photobucket.com/albums/w184/janet_bl/yummysunday.jpg"></a>