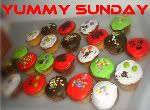 I'll be attending a friend's wedding tomorrow. I will act as the event coordinator for the wedding. Actually, it's not what you think it is, but I will just facilitate the flow of the wedding program. The whole concept of the wedding was planned and prepared by the bride herself. I'm excited about it and I hope everything will turn out as planned.
Talking about weddings, my Yummy Sunday entry for this week is my wedding cake. I talked about this before but thought of reposting it again… (for yummy Sunday).
By the way, our featured Yummy Sunday participant for this week is Laureen of "Words from My Heart".
Check out her Yummy Sunday post today and don't forget to leave a comment.
HAPPY SUNDAY EVERYONE!