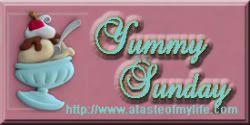 It's Sunday once again and I'm happy to share a Spare ribs dish from Manang Kim of "At My Tabletop". You can check out her site today and see what's her Yummy Sunday entry for today.
By the way, for those who are joining this meme, I would be very happy if you spend time visiting other blogs and leaving comments. I guess that is the purpose of memes right? Let's hop around and gain friends! 🙂
Have a wonderful Sunday everyone!