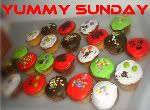 Hello everyone! I'm having a simple giveaway for all Yummy Sunday participants for this week. It's my 10th Yummy Sunday post so I would love to give something to all of you guys. To some bloggers who started YS a long time ago it's okay if it's not anymore you're 10th post what's important is you are still joining the meme.
To all YS participants for this week, you will have the chance to own this simple green silk shawl. You can use this as a tablecloth or as an accent to your Christmas decors. Anyway, all you have to do is make a post about your Favorite Food, with a photo of course. 😀 Invite others too by mentioning in your post that I'm having a give away. I will pick one winner randomly and I will announce it next week. 😀
Here's my entry for this week: "Grilled Pork"
I have posted this at my other site Bogie's Wonderland.
So what are you waiting for? Join now by leaving a link to Mr. Linky below and leave a comment after linking.