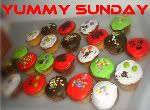 This is what I call a home made pizza especially made for kids. I made this one when he had a church activity for children. The kids love this because it looks so cute and yum. This is very easy to prepare. You will only need bread, spaghetti sauce (spread it all over the bread), cheese (for the hair) and ham or hotdogs (for the eyes and mouth). That's all. Why don't you try this one too!
By the way, the featured YS participant for this week is
Phebie of Love's Haven.


You can visit her blog and check out her Yummy Sunday post.
Happy Yummy Sunday everyone!